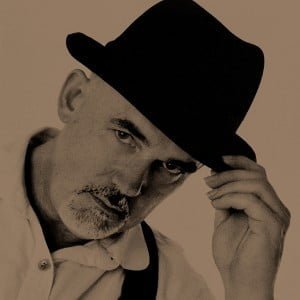 Brother John is one of only a handful of blues and folk musicians who specialize in playing the old school styles of pre war acoustic folk and blues. He has been able to use his traditional fingerstyle and slide guitar skills for both blues and roots and contemporary music.
You can hear examples of Brother John's playing on the two most recent releases from his duo 'The Blues Preachers'. They are : 'Dead Catz Can Bounce' and 'Dry Long So' available online from itunes and www.bluespreachers.com
His side project, 'Brother John And The Grey Man' is a musical melting pot and includes elements of Folk, Rock, Blues, Indian and Gospel Music. They are minstrels in the old sense of the word. They poke fun at our leaders and shine a spotlight on all that is wrong with planet earth. Their social justice and gospel songs pull no punches and they are part of a growing movement of like minded people who feel that it is their mission to reveal what is behind ——>
'The Dog And Pony Show'
The Truth Will Set Us Free.
This collaboration includes the following musicians : Amie Zar from the band Meetings on Mohan Veena. Craig Kelly also known as "the Grey Man" from the progressive gospel rock band 'Isadore Thead' on guitar and vocals. Kieran and Jesse Morris from the band 'Morris Dance' on guitar and vocals and Brother John on guitar, slide guitar, mandolin, banjo, mountain dulcimer and vocals.
Listen to Brother John And The Grey Man at www.sonicbids.com